2009 IDOM News
December 30th, 2009

That's a wrap!

2009 has finally come to a close, and IDOM got one final project in - our 48HFP International Shootout entry was shipped out on time on December 7th. It's a post-apocalyptic piece called "A Better Place". The competition organizers have asked us not to post the film publicly until the judges have made their selections, so you'll have to check back next year to see it - we may do a public screening in the next month or so, if so we'll post details here.

"A Better Place" marked our 12th film overall in 2 1/2 years of timed competitions, and our 5th film of 2009 - a new single-year record for us! The 2010 season will kick off once again on March 4th with the International Documentary Challenge, but that's not all we have in store for next year. IDOM will be branching out beyond timed competitions with a variety of original short film projects as well as a feature-length documentary. How many films can we make in year? Keep watching right here to find out...

Happy New Year!
December 4th, 2009

Once more into the breach, dear friends...

We thought we were out, but they pulled us right back in - to one last 48 hour film project for 2009! Tonight kicks off the 48HFP International Shootout, in which the winning teams from all of the city competitions participate in one final competition. We didn't originally expect to be involved since we weren't a city winner this year, but they expanded this year's competition by inviting several of the top teams from each city to participate as well - and IDOM got an invite. A total of 60 teams from around the world will be competing this time, with the winner going to Cannes next year. Should be an interesting weekend... check back next week to see how our 12th film turns out!
September 25th, 2009

'Intrinsic Self' is now online!

Our 7 Day Film, a documentary about SF Bay area fire performers, is now up on Vimeo - this is the 'director's cut' with one interview reshot after the competition due to sound issues. Hope you enjoy, and tell your friends!

Intrinsic Self from It Donned On Me on Vimeo.
September 15th, 2009

'Coulrophobia' wins 'Best Editing'

Just a quick update to say we won 'Best Editing' for 'Coulrophobia'! That's 2 editing awards in a row - now it's time to get to work on everything else! Congratulations to all of the winners in this year's San Jose 48 Hour Film Project - you can see a list of all the winning films here.

So that wraps up 2009 for IDOM... probably ;). We should have 'Intrinsic Self' online in a week or so, some additions and changes to the site are in progress, and a few new ideas are just starting to take form - so keep on checking back for the latest news!
September 10th, 2009

'Coulrophobia' nominated for 'Best Editing'

Our latest film, 'Coulrophobia', has been nominated for Best Editing in the 2009 San Jose 48 Hour Film Project! You can view all of the nominees here. The awards screening is 5pm this Sunday, September 13th at the Camera 12 Cinemas in San Jose - come on out to support local filmmaking, see the best of this year's films, and find out how we did. See you there!
August 24th, 2009

'Intrinsic Self' takes 'Best Editing'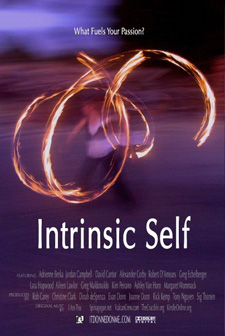 Our third documentary, 'Intrinsic Self', has won Best Editing in the Seven Day Film Festival! It was also nominated for Best Picture, Best Sound and the Audience Award. We'd really like to thank everyone who came together at the last minute to make the film possible - we ended up making our seven day film in the last 36 hours and it wouldn't have happened without the enthusiasm of all the fire performers who took part. We'll have the finished film posted online soon!
August 21th, 2009

'Coulrophobia' is online!

Our entry for the 2009 San Jose 48 Hour Film Project is now available on Vimeo - you can watch it in standard definition below or click through to the Vimeo page to watch it in HD. Enjoy - and tell your friends!

Coulrophobia from It Donned On Me on Vimeo.
August 18th, 2009

We survived another 48 hours!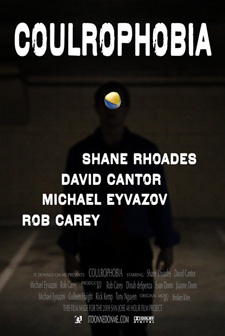 Back-to-back competitions certainly make for an interesting challenge, but we managed to pull through and wrap our 11th film this past weekend - 'Coulrophobia' - for the 2009 San Jose 48 Hour Film Project. It was another tight one - we dropped it off 7 1/2 minutes before the deadline!
Our film is premiering tomorrow night (Wednesday, August 19th) as part of the Group B screening (9:30pm) at the Camera 12 Cinemas in San Jose. You can preorder tickets on the Camera 12 Cinemas site here. Hope to see you there! If you can't make it check back here in the next couple of days - we'll have the film online after the screening.
That wraps up our planned competition schedule for 2009 - we'll be on hiatus until next spring - but we've got some new plans taking form so be sure to keep an eye out for news of our latest ventures!
August 10th, 2009

7 Day Filmmaking Competition completed!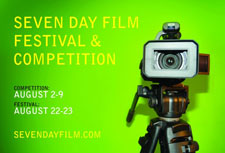 It was a long week - between illness and coordinating everyone's schedules for a mid week shoot our original plan for the 7 Day Filmmaking Competition fell through midway into the week. That left us scrambling to come up with something we could put together in the time remaining - but hey, we're used to that kind of timeframe! We started shooting Friday night and managed to get our completed film in with just 15 minutes to spare - despite some minor technical difficulties!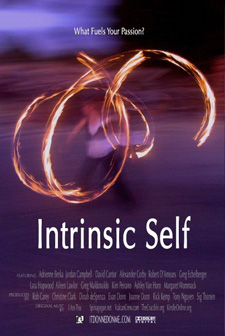 The film, "Intrinsic Self", is a documentary profiling several fire performance artists. It will be premiering August 22-23 at the Seven Day Film Festival - check our screening page for full details coming soon.
Naturally, after a week like that it must be time to take a break, right? Right? Of course not! We'll be jumping right back in this coming weekend and closing out the 2009 season with the 2009 San Jose 48 Hour Film Project. Check back next week to see if we survived back-to-back competitions!
July 22th, 2009

Best Actress for Brenda Usher-Carpino!

At last night's award ceremony for the 2009 San Francisco 48 Hour Film Project our lead actress in "Sur Mesure: Journeys in Transpersonal Haberdashery" brought home the Best Actress award. Congratulations Brenda! If you haven't seen the film yet, be sure to check it out - her performance is 'Formidable'!
July 16th, 2009

Sur Mesure wins Audience Choice and more!

We just found out recently that 'Sur Mesure' won the audience choice award for our screening night in the 2009 San Francisco 48 Hour Film Project! Also the judges have made their final decision and Sur Mesure has won... something else! The winners aren't announced until the awards screening, so if you'd like to come see the film on a big screen, support the team and find out what we won come on out to Joey & Eddies in San Francisco next Tuesday, July 21st at 7:30pm - full details on the SF 48 Hour Film Project site.

IDOM's first film - "Urgent Care" - will also be screening tomorrow night (Friday, July 17th) at Rogue Ales in SF along with team member Rick Kemp's short film 'Max' (written by & starring 'Urgent Care' star Mickey Joseph) and 18 other short films as part of the Rogue Ales Film Festival. Good beer, good films, what more can you ask for?
June 11th, 2009

Sur Mesure screening a success!

Last night's screening at the Roxie was a big success - the audience reaction to our film was exactly what we'd hoped for. For those who couldn't make it last night here it is - click on through to Vimeo if you'd like to watch it in HD. Enjoy - and tell your friends!

Sur Mesure: Journeys in Transpersonal Haberdashery from It Donned On Me on Vimeo.

Some people have reported difficulty viewing the video on Vimeo - it requires the latest update to the flash plugin to play, available here.

Alternately you can watch it here in MP4 format which should play on any computer with Quicktime installed (high definition versions will require a reasonably fast computer to play smoothly):

And finally, if none of the above options work you can try watching it on YouTube - although that is the lowest quality option.
June 9th, 2009

SF 48HFP update

Well, it was another successful weekend for IDOM as we completed our entry for the 2009 San Francisco 48 Hour Film Project. This brings our total to 9 films in the past two years! We had a great weekend - on Friday we drew the "Mockumentary" genre, and the common required elements this year were:
Prop: Hat
Line of dialogue: "I believe anyone can change"
Character: Claude or Claudette Green, Guitarist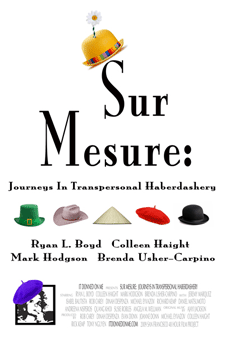 We decided to really run with the prop this year, and taking inspiration from the line of dialogue we finished up the weekend with "Sur Mesure: Journeys in Transpersonal Haberdashery". Everything came together well - our actors did an excellent job, the footage from the 5DmkII looks beautiful (thanks in no small part to Canon's recent firmware upgrade), and the original music by Ajayi Jackson really pulled everything together in the end. It's definitely one of our better films and we're really looking forward to getting it in front of an audience.
We'll be screening with group B on Wednesday, June 10th at 7 and 9:30pm at the Roxie theater along with 13 other films - come on out and support us for the audience choice award if you can! If you're planning to come, get tickets here - the 7pm show is nearly sold out already. If you can't make it - or even if you can but you'd like to see the film as it was meant to be seen in full HD glory - we'll have it up here on Thursday morning, so check back soon!
June 5th, 2009

2009 San Francisco 48 Hour Film Project

Haven't had much time to update recently - but IDOM's still in action, kicking off the SF 48 hour film project in just a couple of hours. It's sure to be a crazy weekend but once the dust settles we'll post a full update next week. In the meantime, you can follow our progress this weekend on Twitter by searching for the #IDOM tag, or follow everyone participating this weekend with #48hfp.
March 10th, 2009

a place like this...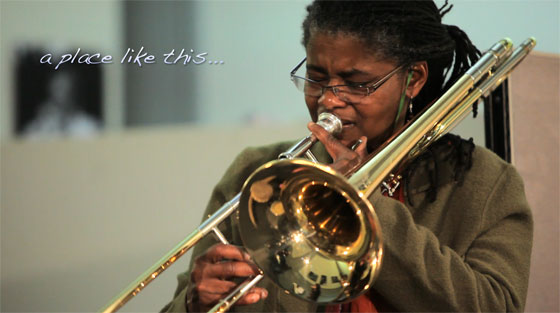 This past weekend the 2009 International Documentary Challenge took place, and IDOM participated for the second time. We got to choose between the genres of "Music" or "1st Person" and this year's theme was "Hope" or "Fear". We chose music and hope, and just yesterday we wrapped production on our second short documentary - "a place like this..." - which profiles Angela Wellman and the school she founded, the Oakland Public Conservatory of Music. It makes a great companion piece to last year's entry, "Stick & Pound", which brought home Best Direction & Best Cinematography honors, and we feel we've taken it to the next level with this film - now it's all in the judges hands!
This was an interesting experience overall - we made a significant technical change this time. Our seven previous films have been shot on a Canon XHA1 and an HV20 - this time around we used two Canon 5DmkII, Canon's newest dSLR which also shoots stunning HD video. Though the 5D has some technical limitations in the end the results were well worth the minor compromises these cameras required.
As with last year's competition they've asked us not to post the films right away, in anticipation of potential festival screenings, so we can't show you just how good the footage from the camera looks. We'll try to get a short trailer put together soon though so you can at least see a sample.
January 10th, 2009

Looking forward, looking back

IDOM's 2008 wrapped up with the National Film Challenge - which was unfortunately the first project IDOM didn't complete on time. Despite having over half the team out of town for the weekend or otherwise unavailable, three members made a valiant attempt at pulling the project together but in the end it didn't happen. The concept was a good one though so we're looking forward to finishing it up as a non-timed project later this year.

We did finish three great films this year though - "Stick & Pound", "Tail" and "Twirly Boy". "Twirly Boy" will be screening next week (January 13th) in San Jose at the 48 HFM 4-Way screening. "Stick & Pound" will be screening next month at the Big Sky Film Festival in Montana as part of the IDC Showcase screening - full details on both screenings are available on the screenings & events page.

If you can't make it out to Montana, the International Documentary Challenge has updated their website with this year's winning films including "Stick & Pound" - check them all out here. We've also got "Stick & Pound" up in high-quality quicktime here:

IDOM will kick off this year with the IDC again, March 5-9th - registration is open now. Be sure to sign up now if you're thinking about participating - it's a great experience!

News archives

:

2010

2009

2008 2007