2007 IDOM News
November 30, 2007

Avalon Micro Film Festival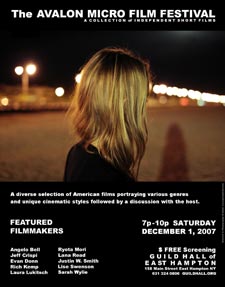 I know we haven't had an update in over a month, but it's not because we haven't been busy - quite the opposite, in fact. IDOM members recently competed in the National Film Challenge and produced two different films - we'll have an update with links to the films soon.
In the meantime, two of IDOM's films will be screening as part of the Avalon Micro Film Festival in East Hampton, New York tomorrow night (December 1st) at the Guild Hall. Produced by "Doggie Style" star Jeff Crispi, the festival will highlight a wide variety of short independent films including several 48 Hour Film Projects. More information on the festival is available at Avalon Studios and there is a short write-up in the East Hampton Star.
October 17, 2007

Apple Insomnia Festival

An IDOM splinter group - "The Crack Of Donn" - consisting of Tom Flowers, Tony Nguyen and Sig Thorsen, participated last weekend in Apple's 2007 Insomnia Film Festival, a filmmaking competition which takes place over the course of only 24 hours. They successfully completed their film and uploaded it to Apple's site with just 12 minutes to spare!

Public voting will open on October 19th and we'll post the link then so you can vote for their film - the top 25 audience favorites will be submitted to a panel of celebrity judges who will select the winning teams - and the winning team takes home a complete mobile production system for each team member. Be sure to come back in a couple of days and so you can vote for their film - in the meantime, enjoy "Which?":
October 3, 2007

Visa "Life Takes" update

Visa just released an official press release about the winners of the "Life Takes" competition - according to it the films should be up on 48.tv soon, and we're currently still waiting on clearance to post our film publicly. In the meantime you can see some photos and a writeup of the awards screening and party on Tony's blog... and if you're visiting for the first time, Welcome! Be sure to check out our previous 48 Hour film projects - 'Urgent Care' and 'Doggie Style'.
September 29th, 2007

Third Place! (but lets call it second....)

That's right - IDOM's film "EXIT" won second place in Visa's 'Life Takes' Invitational... in reality, it's third place, since they had a Grand Prize winner and then first and second - but we don't care, we're just glad to have won!

The competition was strong - all of the top ten films were great, and honestly at the end of the night it could have gone to anyone! Congratulation to the first place winner, Team Midas' "Two Coins", and Grand Prize winner - Team BP's "Terms of Use". And congratulations to all the local teams for a strong showing - 4 teams in the top 10, and two of the three winning teams were from San Francisco!
September 25th, 2007

"EXIT" in Top 10!

We just got word - "EXIT" was selected as one of the top 10 films in the Visa "Life Takes" 48 Hour film project, and will show at the September 29th screening in San Francisco! The three winning films are in this group and will be announced at Saturday's event - the screening is not open to the public, so be sure to check back next week to see how we did.
September 12th, 2007

It Donned On Me in the news!

SFSU's paper, the Golden Gate Xpress, recently did a story on chief instigator Tony Nguyen (an SFSU grad) and his part in IDOM and the 48 hour film. Read the whole story here.

News archives

:

2010 2009 2008

2007