2008 IDOM News
October 16th, 2008

Screenings and More!

Been busy around here so I've been remiss in updating the site for a while. The San Jose 48HFP awards screening was great, with a lot of strong finalists. "Twirly Boy" brought home the "Most Gratuitous Marketing Ploy" award and we also picked up a "Community Player" award as well.

San Jose wasn't the last competition for IDOM this year though - next week we'll finish out the season with the National Film Challenge which kicks off on Friday, October 24th. The NFC will close out our 2008 season and we'll be breaking once again until the 2009 season kicks off with the International Documentary Challenge in March.

Speaking of the IDC, IDOM's award-winning 2008 entry "Stick & Pound" will be screening, in addition to our films "Tail" and "Twirly Boy" and a dozen other shorts, this Saturday night at the Fall edition of the Avalon Micro Festival. The fall edition is screening at Laney College in Oakland, CA - full details are available on the Avalon Studios website. Hope to see you there!
September 4th, 2008

Gratuitous? Us? Never!

The nominees are in for the 2008 San Jose 48 Hour Film Project, and 'TwirlyBoy' is officially in the running for Best Direction, Best Music/Score, and Best Cinematography! We think it may also have a good shot at audience favorite for our screening night, due in no small part to Tony's appearance in costume at the screening and his distribution of Ho Ho's to the audience. Which brings us to another award we think we may be up for - "Most Gratuitous Merchandising Ploy". We'll see how things go, but is it really gratuitous if it works?

The highlights night and award ceremony is this Sunday, September 7th, 7pm - 9:30pm at the Media Center in Palo Alto. Hope to see you there!
August 28, 2008

Avalon Micro Film Festival 2008 Summer Edition

Once again several of IDOM's films will be screening as part of the 2008 Avalon Micro Film Festival. The Summer edition will be taking place this Saturday, August 30th at The Quarter Note in Sunnyvale at 8pm. IDOM's films "Doggie Style" and "Tail" will be screening on Saturday along with a dozen other short films including "Max" - a short film by IDOM member Rick Kemp written by and starring Mickey Joseph, star of our first 48H film "Urgent Care". The screening will be followed by a Q&A with several of the filmmakers in attendance.

The Avalon Micro Film Festival is a truly grassroots production started and run by Jeff Crispi, one of the stars of "Doggie Style". From a single screening last year Jeff has grown the festival to four scheduled screenings this year spanning both coasts, so if you miss this week's screening you'll still have a chance to catch the fall or winter shows (in Oakland & New York, respectively - I'll post details as they are finalized). So come on out to support both truly independent filmmaking and independent exhibition as well as have a great time at the movies.
August 22, 2008

Sequel?

'TwirlyBoy' closed out last night's screening with a bang, ending a night of great films with the audience both entertained and confused as they asked themselves "what just happened?". To top it all off IDOM Chief Instigator Tony Nguyen appeared in full TwirlyBoy regalia (including a costume change!) and bribed the audience with free Ho Ho's and some spectacular ribbon twirling. Win or lose, at least we won't be forgotten! There was even some talk of a possible sequel... hmm, "TwirlyBoy 2: Electric Boogaloo" perhaps?

If you couldn't make it out to the screening you can enjoy TwirlyBoy from the comfort of your own home RIGHT NOW!

'TwirlyBoy' Standard Definition - 56Mb MP4

'TwirlyBoy' High Definition (720p) - 225Mb MP4
August 19, 2008

What Just Happened?!?

That was the required line of dialogue for the 2008 San Jose 48 Hour Film Project, and also an apt description of our weekend! It seems we'd become complacent after our last couple projects ('Tail' and 'Stick & Pound') went very smoothly, and we assumed that would always be the case... not this weekend!

Our usual M.O. is to wrap up writing the story/script by midnight Friday so we can get some sleep before an early start on Saturday. This time we didn't wrap up until 2:30 am - and we didn't even have a full story at that point!. Saturday kicked off late with low morale as we all sensed that things weren't going well, but we plunged back into brainstorming mode and finished up the story. This pushed back our shoot start time until early afternoon but it was worth it, as once the story started to come together our enthusiasm returned as well. Our shoot ran late into the evening and our first rough cut wasn't ready until 3:30 am - and we still had material to shoot! We kicked back off at 8:30 Sunday morning and wrapped the shoot in a few more hours, leaving us just the afternoon to finish the edit.

Unfortunately this late schedule meant we ran out of time to record an original score (sorry Dante!). We found some good CC-licensed tracks on Jamendo which brought everything together well and wrapped post with just over an hour left - just in time in fact, as it took nearly an hour to get to the drop off in San Jose! We made it though, with just 7 minutes to spare - probably our closest drop off so far!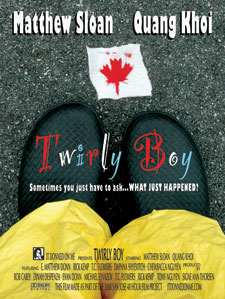 Despite the struggles we pulled off a film we're all proud of - 'TwirlyBoy'. It's a strange name. It's an even stranger film. Strange, but good. And like every other competition we've done so far I don't think there's any way any of us could have envisioned the film we'd end up with before last weekend...
'TwirlyBoy' will premier on Thursday, August 21st at the Group B screening, which takes place at the Camera 12 Cinema in San Jose at 7:30pm. If you're planning to come be sure to buy tickets ahead of time as it's likely to sell out. If you can't make the screening don't worry - we'll post 'TwirlyBoy' here on the site in glorious HD on Thursday night!
August 14, 2008

"Tail" wins Best Sound Design!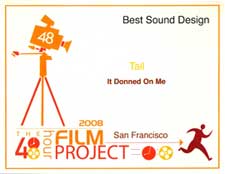 Last night's screening of the 2008 San Francisco 48 Hour Film Challenge finalists was great - the overall quality of the films was really impressive. IDOM's entry, "Tail", came home with the award for Best Sound Design, as well as receiving nominations for the Best Use of Dialogue and Best Cinematography categories. Congratulations to all the winners and nominees - hope to see everyone back next year!
Of course IDOM will be jumping right back into the fray this weekend for the 2008 San Jose 48 Hour Film Challenge! This should be another great competition, with quite a few teams returning from last year as well as several of the finalists and winners from this year's SF challenge - be sure to check back next week to find out how things went!
August 11, 2008

"Tail" is a 48 Hour Film Project finalist!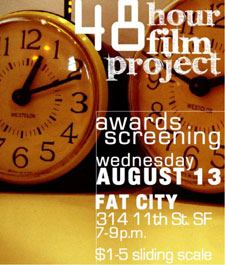 We just got word that "Tail" has been selected as one of 14 finalists in the 2008 San Franciso 48 Hour Film Project! The awards ceremony and screening is at 7pm this Wednesday, August 13th at Fat City, 314 11th Street, San Francisco - full screening details and a list of all finalists are available on the 48 Hour SF site.
Come on down to check out all the finalists, have a beer and some free popcorn, and cheer us on!
August 5, 2008

Dokufest 2008 screening of 'Stick & Pound'

If you happen to be in Prizren, Kosovo this afternoon and are looking for something to occupy your time you might want to check in to the Dokufest 2008 screening of the International Documentary Challenge finalists, including our short documentary 'Stick & Pound'. The show starts at noon and details can be found here.

If you don't make it to the Kosovo screening don't worry - 'Stick & Pound', 'Doggie Style' and 'Tail' are scheduled at several screenings of the 2008 Avalon Micro Film Festival. We'll have all the details of when and where you can see each film as soon as possible!
August 1, 2008

'Tail' Online

Haven't had a chance to put together a full page for it yet, but for those who haven't seen 'Tail' yet we've got the film itself up in standard and high definition versions:

'Tail' Standard Definition - 32Mb MP4

'Tail' High Definition (720p) - 143Mb MP4

Enjoy!
July 28, 2008

The Front Page and the Big Screen

Today was a big day for IDOM - we hit the front page and the big screen on the same day! The San Mateo Daily Journal ran a front page story on us today titled 'It Donned on Me' enters second short: 'Tail' which gives a good summary of our team history as well as the history of the 48 Hour Film Project.

Tonight was also our screening group and we got to see 'Tail' in front of a packed house at the Roxie - and I have to say the audience reaction was even better than we could have expected! The screening as a whole was great with several interesting films from both new and returning teams. Thanks to everyone who attended - and for those who missed it we'll have 'Tail' on the site tomorrow!
July 20, 2008

Another one in the can...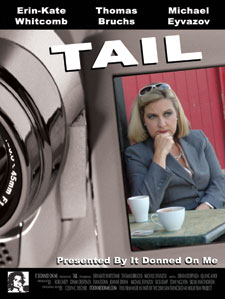 Just yesterday IDOM wrapped our entry in the 2008 San Francisco 48 Hour Film Challenge - "Tail". "Tail" will be screening with group D - next Monday, July 28th at the Roxy Cinema at 7:30 and 9:30pm - with a dozen or so other entries from this year's competition, so be sure to come on out and check out some great films.
If you can't make the screening we'll have Tail up on the site soon along with production and behind-the-scenes info so check back soon.
July 17, 2008

"Stick & Pound" In Kosovo!

We just got word from the International Documentary Challenge organizers that the Doc Challenge Finalists showcase will be screening in Prizren, Kosovo as part of Dokufest 2008 between August 4-10! The exact date and time is yet to be determined but we'll update here as soon as we know - so if you've been waiting for a chance to see 'Stick & Pound' along with 13 other great short docs maybe a quick trip to Kosovo is in order!
July 16th, 2008

San Francisco 48 Hour Film Challenge 2008

This weekend kicks off the 2008 San Franciso 48 Hour Film Challenge and IDOM is preparing furiously for the event. Well, ok, maybe 'furiously' is a little much, but we have sent a couple emails back and forth, and we've got some great actors lined up for whatever challenge we get. I don't think we could have predicted what we'd end up with the week before any of the competitions we've done so far, so we've found that there's just not that much preparation you can really do beforehand.

This event marks the 1 year anniversary of IDOM as an official competitive filmmaking team, and what a year its been. From last year's SF 48 hour entry, "Urgent Care" through "Stick & Pound" we managed to finish 5 films in competition as a full team, and also several other projects completed by smaller groups of team members. It was definitely a push towards the end of last year - most of the competitions seem to pile up late in the year and it can be a challenge to keep up. However that challenge is part of what makes this interesting - learning how to sustain a competitive filmmaking team is part of the process of pioneering a new sport! So stay tuned - there's a lot more coming right up!
June 30, 2008

MacDiva & the Donnettes in Open Cut Open Source Film Competition

IDOM members Sig, Dinah and Tony joined forces last month as 'MacDiva & The Donnettes' to participate in Open Cut, a unique film competition in which all teams are provided with the same professionally shot footage (shot on the RED One camera) and tasked with assembling their own version of the short film. Open Cut Project 1 was a short film called "Susannah", and you can see MacDiva & The Donnettes version in HD on Vuze here. As usual Tony has documented the process on his blog, unrendered.blogspot.com and he's collected all of the Open Cut specific posts in a dedicated blog at macdonnettes.blogspot.com.
May 28, 2008

"Stick & Pound" Awards Have Arrived!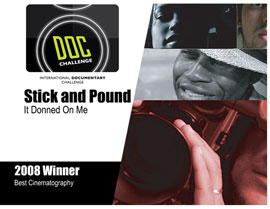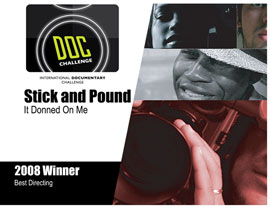 May 5, 2008

"Stick & Pound" Pounds Home a Win in Toronto!

We're back from Hot Docs in Toronto, where "Stick & Pound" screened as one of 14 finalists in the International Documentary Challenge 2008 - and it brought home two awards for Best Cinematography and Best Directing! You can see a full list of all winners here on the IDC website.

The trip was great, four of us made it and it was the first visit to Toronto for all of us. Unfortunately we missed most of Hot Docs Festival itself (it ran all week but we could only be there for the last 2 days), but the IDC screening and parties were a lot of fun. It was also cool to meet members of the other teams and hear about everyone's experiences in the competition. The screening itself was really good - all 14 films were very strong and it's amazing to see what people can pull off in such a short time period.

Tony and Dinah have both posted photos and write-ups of the trip on their blogs - http://unrendered.blogspot.com/ for Tony and http://1orangemooninafrica.blogspot.com/ for Dinah.

We'd love to post the film here but the organizers of the Doc Challenge are currently seeking distribution for the films entered in this year's competition and have asked us to hold off posting them online for a little while (ahh, the collisions of old and new distribution systems) - contact Doug Whyte for inquiries regarding distribution.

In the meantime "Stick & Pound" will likely be screening at several other festivals around the country this year so check back here for a chance to see it in your area!
March 30, 2008

"Stick & Pound" a finalist in International Documentary Challenge

That's right! We just heard from the organizers of the International Documentary Challenge and IDOM's film, 'Stick & Pound', is one of 14 finalists out of this year's 101 entries! This means our film will be screening at the Hot Docs festival in Toronto on April 26th - if you're going to the festival be sure to check it out along with all the other finalists. Four members of the team will be making the trek north for the screening, which will probably end up as the basis for another documentary - see you there.
March 10, 2008

International Documentary Challenge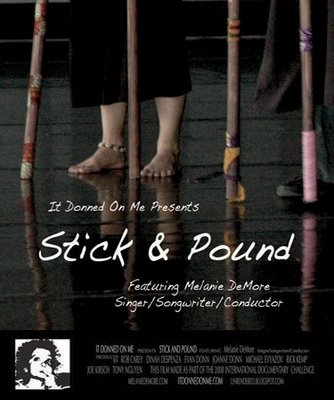 This weekend It Donned On Me kicked off our 2008 filmmaking season with the 3rd annual International Documentary Challenge. The IDC involves creating a short (4-7 minutes) documentary in an assigned genre over the course of 5 days.
Last Thursday (March 8th) we received our criteria - a documentary in the Art or Historical genre which incorporated the theme of 'change'. Team member Dinah Despenza immediately thought of her friend Melanie DeMore, a practitioner of the traditional Gullah art of stick pounding - and by Thursday night we were off and running on a stick pounding documentary. We shot all Saturday afternoon and edited on Sunday, with Monday left for a final mix and polish - I'm compressing our entry files as we speak and it looks like we should make FedEx with plenty of time to spare.
We'll post a copy of the completed film ('Stick & Pound') as soon as we can - in the mean time check back for updates!
January 31, 2008

NFC Special Judges Award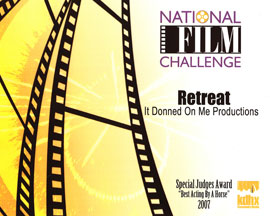 While Retreat didn't manage to make it into the finalists for the National Film Challenge we just found out it won a special judge's award - "Best Acting By A Horse"! Congratulations to Junior, the star of Retreat and now a nationally acclaimed, award-winning equestrian thespian!
January 1, 2008

National Film Challenge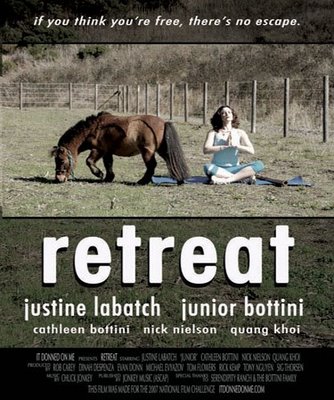 As I mentioned before, IDOM participated in the National Film Challenge a couple of months ago. Though I started work on a site for the film things got busy and I never got it completed - but now it's time to clear out 2007 so we can move on to 2008! The cast and crew links aren't active here, but our entry "Retreat" has it's own site now at http://itdonnedonme.com/retreat/. Hope you enjoy the film!
While 'Retreat' was our official team entry, IDOM member Joe Kirsch decided to give it a shot on his own. With the help of fellow IDOM'er Kirk Moore he produced his own excellent entry - Once Upon A Time....
Unfortunately neither film made it into the finalists - but there's always next year. So that wraps up 2007... and we've got a lot of things in the works for 2008, so check back soon!
Happy New Year!
News archives
:
2010
2009
2008
2007